Nerve Cuff
NERVALIGN® NERVE CUFF
NervAlign® Nerve Cuff is a soft, compatible protective wrap used to protect repaired injured nerves. The product is being developed by ReNerve for the surgical repair of transected (cut) and damaged nerves. The NervAlign® Nerve Cuff can be used on all types of peripheral nerve repairs at the site of repair. It is sutured into place to protect the nerve from negative inflammatory responses and scarring. NervAlign® Nerve Cuff has US market clearance, from the FDA under a 510(k), and in New Zealand for the repair of peripheral nerves.
NervAlign® Nerve Cuff is unique due to the method of production ensuring it is clean and inert extracellular matrix scaffold, where the antigens that trigger scarring and negative inflammatory responses are removed by the production process. The manufacturing process employs supercritical CO₂ technology, does not use toxic agents and does not use ethylene oxide sterilisation processes. Accordingly, the tissue is cleaner than other nerve wrapping options, holds its core structural integrity, is pliable and conforms to a required shape. These properties produce a superior product with an uninhibited environment for natural tissue regrowth to occur around and through the tissue. This results in a product that is safer in the patients and in theatre, reducing possible litigation risk for hospitals.
Central to the preparation method is supercritical CO₂. The supercritical CO₂ technology involves the use of carbon dioxide under pressure in a supercritical state which exhibits the properties of both gas and liquid. This makes it ideal for cleaning and sterilizing tissue as it permeates deep into materials like a gas, cleans like a liquid and is simply removed by release of pressure. As it does not generate contaminated chemical wastes, nor leave any residual chemicals within tissue scaffolds, the scCO₂ is an environmentally friendly method to produce tissue scaffolds that retain the structural and mechanical properties of the tissue whilst being freed of cell debris and reducing any potential viral contamination. Due to its intact nature and retention of the natural crosslinking in the extracellular matrix, the NervAlign® Nerve Cuff tissue product promotes cell attachment, making it ideal to be used in surgical reconstructive and repair procedures.
The NervAlign® Nerve Cuff has been developed by ReNerve in partnership with Leader Biomedical (Leader) in the Netherlands. ReNerve has licensed a proprietary supercritical CO₂ technology called eCOO® Technology, from Leader and the two companies have been working together over the past 3 years to develop the Nerve Cuff.

The NervAlign Nerve Cuff has US market clearance, from the FDA under a 510(k), and in New Zealand for the repair of peripheral nerves.
For US enquiries please contact:
[email protected] or call +1-612-293-8673
For New Zealand enquiries please contact
[email protected]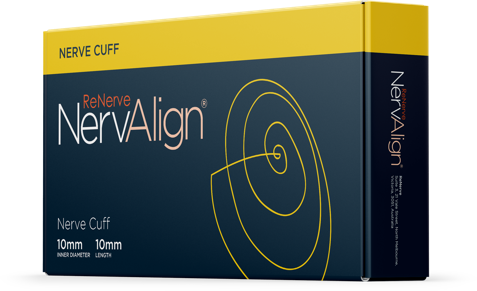 –– DR DAVID RHODES ––
ReNerve is focused on developing cleaner, safer, better tissue products that aim to provide better outcomes for patients improving their quality of life.